Bangun Mbinudita
Together with the community, build education and health access for Mbinudita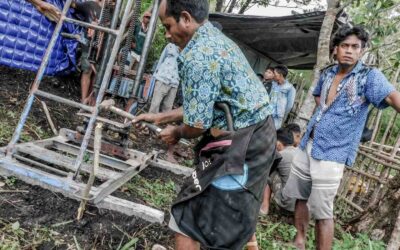 1 big step in a series of activities to provide access to water for Mbinudita residents
read more
The primary school of Mbinu Dita, is located in the hamlet of Mbinu Dita, which is in Sumba East. Waingapu the most important city of Sumba is more than 2 hours by car, of which more than an hour on a partially paved road and in very bad condition.
This region where Mbinu Dita is located, has become an independent village and which is now an integral part of the village of Prai Paha, sub-district of Ngaha Ori Angu.
Mbinu Dita Parallel School is affiliated with its mother school Waitama One-Stop School. When we visited him last November, the school had two classrooms (level 1 and 2, for children 8 to 10 years old), perched on top of a hill, without water and without electricity.
This parallel school was built because the children of the small classes live far too far to reach the main school, which is more than 8 km away on foot. Thanks to Mbinu Dita, children have to walk less, but for some, more than 3-4 km. This classroom building had been constructed independently, by the parents of the students, with the help of the surrounding community.
All had worked "hand in hand" to build this school, so that their children could acquire knowledge closer to home. The school was very simple with split bamboo walls, black sand floor with a tin roof and reeds. Despite this, the children looked comfortable. The school had enough teaching and learning materials, and offered a variety of creative learning outcomes for their students.
The rain and the storm are united to destroy our school and now there is nothing left for the children!
The school we are looking after in Mbinu Dita (Sumba East) was completely destroyed by a storm on December 18, 2019. The Foundation, therefore, undertook to rebuild it before the end of March 2020. More than 50 children from this very remote area, have no more school and we all cry, simply because it is a real drama for this whole rural community, which lives without direct access to water and without electricity.
We took this school under our wing in November 2019, touched by the poverty and the kindness of this extraordinary population. Fortunately, there were no students, our teachers in class, because the children had finished their exams and received their school reports. They were therefore not in school when this disaster occurred.
What will happen to children when they start school next semester? What can we do to help rebuild this school for the children of Mbinu Dita so that they can learn comfortably and safely in the future?
We continue to coordinate with the teachers, the Charis Sumba school which helped the young teachers and the Mbinu Dita community. With this, we invite everyone to participate with us in the reconstruction of the school. The project in its development and fundraising phase is already well advanced and we should be able to start work in February 2020.
The schools are made of a steel frame, about 60 tons. The whole was built in Surabaya, more than 2,000 kilometers from MbinuNdita, then transported by boat, trucks;
The foundations are more than 1.50m deep. The structure is flexible and resistant to earthquakes. The walls are made up of more than 10,000 white bricks;
The materials for the floors are local flat stones, we use as much as possible natural and ecological materials from the local community;
The roof is made of local wood, then sealed with two layers of asphalt. This in order to collect rainwater and dew. This water is stored in two 5,000-liter tanks to serve the local community;
Electricity is supplied by photovoltaic panels installed on the roof of the school;
Just to remember that we were there!
We are very good friends, it is our history, it is we who write it and who continue to write it!
Instagram
# bangunmbinudita